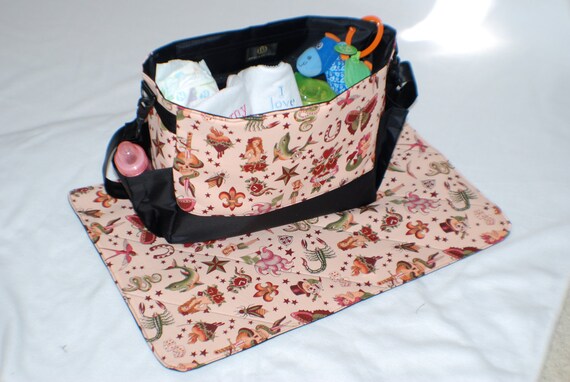 When you are sewing your own clothing or creating a wardrobe for a new baby, your confidence can grow quickly. After all, you have mastered all of the possible disasters that come from a variety of fabrics. Despite this, you can have many tears of frustration if you are not prepared for the tricks and turns associated with making purses. This is especially true since many of the upcoming season's fashion trends for handbags are on the complicated side.
Regardless, with a little bit of helpful advice, you will be on your way to creating handcrafted purses and completing more complex sewing projects. Altogether, there are seven areas of caution associated with sewing fabric handbags that novice sewers should keep in mind.
1. Keep your iron ready
When you begin to design your own bag, many of the factors that go into making it are meticulous. At first, this appears to be a project based on color, fashion, and seasonal trends. Aside from your typical tote bags, making purses is on the same level of difficulty as making hats. For example, it is not uncommon for expert handbag crafters to get out magnifying glasses to ensure that every stitch is properly placed.
After all, each stitch will be noticed and misplacement could easily affect the structural integrity of the final handbag. This could be especially crucial if you are making something sporty like a messenger bag for a person that rides their bike every day. Plus, bad topstitches can make all of your hard work look sloppy. In order to make the perfect seams and ensure that every crease, fold, or pleat is impeccable, be sure to iron each seam as you make it. It might seem a bit obsessive, but the look of the final product will match the image associated with the pattern.
2. Keep your topstitching aligned
These days, we are told that every sewing project needs to be easy. It is easy to get swept away with this idea and assume that making something like a diaper bag will take you less than 30 minutes from start to finish. Plus, most novice sewing hobbyists forget that you do not need to make every stitch with a sewing machine. Instead, you can work around buckles, clasps, and magnetic closures with hand sewing. In order to keep your topstitching in a straight line, use a ruler and a white marking pen that is specifically for sewing.
3. Interfacing is key to DIY handbags

The key to the fashion and style that you see with the handbag industry is a final product that holds its shape easily. While this makes sense with heavier materials like corduroy, other fabrics that are softer and free flowing can be made more dense by using interfacing. If you learned how to sew from your grandmother, many times interfacing simply meant doubling the fabric or using a heavier piece of fabric behind the fabric you want displayed. However, this technique has made serious upgrades since your grandmother was making her own purses and dresses in the 1980s.
Instead, there are many high tech materials that will ensure your purse conforms to the look that designer of the handbag pattern has in mind. The main point here is that you do not ignore notions that indicate interfacing or fusing is needed. If you do not know where to buy fusible fleece or interfacing, you only need to ask an attendant at your local fabric store to point you in the right direction. Again, do not forget to test a sample before you iron fusible fleece or interfacing into the fabric you are sewing.
4. Sew leather by hand with caution
Year after year, leather purses are almost always a hit in the fashion world. Of course, if you want to match an outfit exactly, it makes sense to create a handbag from scratch if you cannot find one online. While cloth is easy to work with, leather (even fake leather) can be a whole new world. The kinds of tips that apply to cloth simply do not make the cut here.
Like any new crafting project, practice makes perfect. In other words, if you want to make a leather purse this month, make a smaller project from similar leather first. Also, do not be afraid to put your pride aside and check out leather handbag making websites online.
5. Take extra time to find the perfect handmade purse hardware
Oftentimes, there is a rush to make a handmade handbag for a wedding or other special event. After all, finding the perfect dress and then having the luck of also finding the best clutch in the same material do not often go hand in hand. Despite the fact that you might be hurrying around to make a handmade handbag that matches your special dress, do not slack off in the hardware department. In spite of everything, the perfect buckle or metal chain is often what defines current styles and fashion.
For this reason, try to match trends you are emulating as closely as possible. If the photo in a magazine has bronze zippers and bronze metals rings that attach the handbag strap to the purse, then you will want to do the same. Substituting silver stainless steel handbag hardware reflects other fashion years and can make your hard work look dated. It might take extra research time, but getting this part right will make everyone wonder how you could afford a designer tote bag.
6. Test fabrics for handbags that were not recommended
When you buy a pattern for making your own handbags, there is always a section for recommended fabrics. However, a person that likes to make crafts is also known to have an experimental side. This is especially true when you want your purse to match your favorite outfit. You are making them at the same time, so why not use the extra fabric to make a purse? Most of the time, using fabrics that were not recommended works out perfectly fine. Many of the fabrics available on the market today are strong enough to make into diaper bags and backpacks. Regardless, even the strongest of fabric can fail you when you try to turn them into handbags.
One way to test if a fabric will work out as purse material is to sew a seam. Take some fabric scraps and make the type of stitch you intend to use when you make a purse. Be sure to begin and end the stitch you make with some backward stitches to ensure the seam is secure. Remove the sewn fabric from the sewing machine and try to rip it apart with your hands. If it seems to hold up well, you know that this fabric can be sewn along that grain and it is going to be strong enough to make a messenger bag or a diaper bag.
7. Do not try monogramming without practicing
Personalized handbags are all the rage this year, but making one for yourself needs to be done with caution. Your idea may have been to add embroidery for a personalized handbag, but the truth is that even expert professional designers try out a new technique on a scrap first. For monogramming with a sewing machine, professional crafters will try the exact same design on a scrap piece of fabric before adding it to the expensive fabric they purchased.
With this in mind, be sure to apply this idea to every new technique, such as cording for a diaper bag, with the scrap fabric leftover from the pattern cutting process. Of course, if you find that this season's styles of handbags are too confusing to do on your own, remember that you can always pay someone else to make these bags for you.