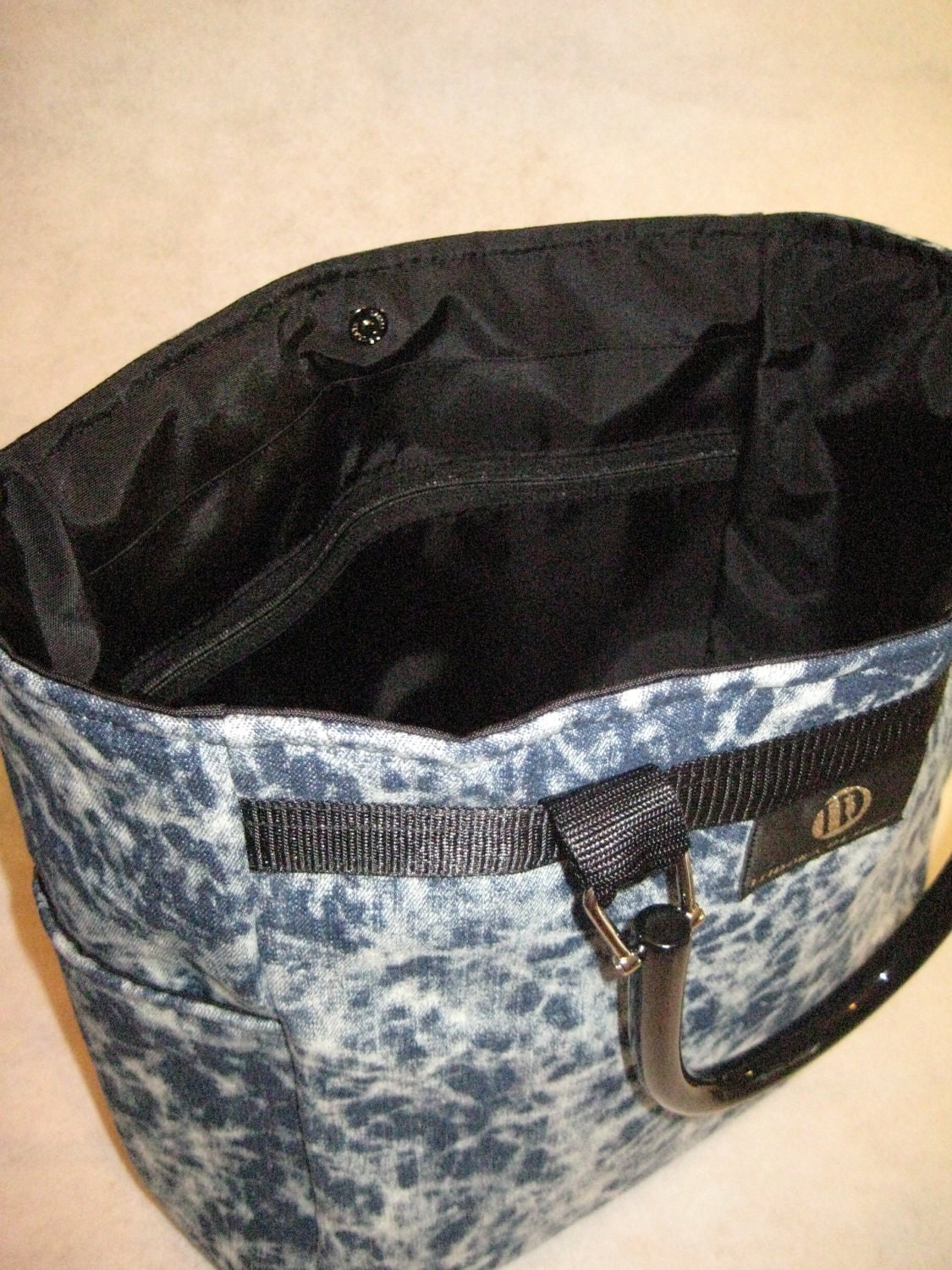 Do we have enough handbags?
It doesn't seem like it, does it?
One of my friends walks out of her house every day with enough bags hanging off her shoulders and forearms it pulls her down. She looks about an inch and a half shorter. Ask her and she'll have a good reason for each. One's a diaper bag. She'll drop it off at the sitter's with her daughter. She has two separate handbags with assorted sundries and accessories that she may or may not need. But the rule is of course better to have it and not need it…
The tote bag contains her lunch. That's in a bag too, by the way. One of those fancy, scientific bags you see on television, one that allegedly keeps everything cool and hot. I never understood them. I once put a cup of hot coffee in one and dropped an ice cube in that. The bag got very confused and stopped working altogether.
I myself never leave the house without at least two handbags. Unless of course, I'm going out to dinner then it's time for a nice clutch, or that most delicate of bags, a purse. I have quite a few of those among my library of handbags.
One of my favorite bags is this Skulls & Roses Tote Bag. When they say something you wouldn't get for yourself, they were talking about this. My kids got it for my birthday. I still have no idea where they got the ninety dollars but they thought it was the bee's knees and so unlike anything else I had. It's a nice soft texture, lightweight and sturdy. The contrast of skulls and roses has grown on me. I keep my devices in it. Blackberry, iPad, MacBook, yadda, yadda, yadda.
My husband asked if I actually needed all those things. Did I really use all of them in a single day?
I threatened to go into his fantasy football league and trade some of his players for virtual dollars that could be used to buy a new bag. He immediately found something else to do.
My other favorite bag that I carry almost daily is this awesome silky black fur bag. Well, it's <i>faux</i> fur, but I don't like to call it that. I can't afford a real fur coat. I'm not about to admit I can't afford real fur on my handbags. It looks quite lavish with a shaggy (faux) fur trim. I adore the feel in my hands. I told my hubby that if I could feel that against my bare skin in a coat, I'd show up at his office wearing it with nothing underneath.
He said we'd be better off putting that money into a CD at whatever it was interest.
I lamented there was a time he'd have spent whatever it took to see me naked.
He reminded me that the reverse was true once. I dropped the subject.
Back to the bags: I haven't used my Elvis Lives Messenger Bag in some time. At the time, I couldn't resist it. A series of hip swiveling Kings in silhouette amid sparkly prints, I thought I'd wear it forever. Unfortunately, I got too depressed over expanding the strap to fit around my waist. Several times. The only unhappiness Elvis ever brought me.
I have a nice batch of bags I designed myself. Well, not with my own two hands, per say. I may be a great cook but if I go near glue and scissors someone in Newark could get hurt. And I live in Maryland.
Take a bag, any bag, diaper, tote, handbag, messenger, what have you, and apply a series of patterns and colors to it. You can mix and match. For instance, take a diaper bag. I can make the body pattern a nice black Cheetah. Now I give the flap a nice solid black because I like the way it sits against the Cheetah pattern. I decide to go black as well with the shoulder pads. To offset all the black, I give the hardware — buckles and such — a nickel finish. And since it's a diaper bag, maybe I give the changing pad a Cheetah pattern too.
Viola! I have the coolest diaper bag, and it'd be hard to find someone else in the ladies' room carrying anything like it.
Come to think of it, I've been meaning to create a nice (faux) fur bag using the process. Maybe if I buy enough of them over the years I can pin them together and wear them like a coat. Well, maybe a drape across the shoulders.
I have handbags in my closet, hanging off doorknobs and dining room chairs. There's a handbag in the bathroom where I keep paperbacks for convenient browsing when I'm, er, occupied. Matter of fact, if someone drove by and threw a dress at me, I'd reach to one side and come back with something to match. My son once tripped over one in the living room. I pretended to not hear the language that came out his mouth. But, oy, did I blush!
When it comes to handbags, I have no regrets. At some point I'll have to decide which I want to be buried with. I'm thinking the Skull & Roses, except the roses are red. I may have to buy the bag that comes in black and white. See, I've already picked my dress. It's a cotton black dress with white lace trim and ruffled sleeves. It's mid-length and shows off legs I've struggled to maintain on the treadmill for too many years to count.
My husband told me he's looking forward to seeing me in it.
What I told him, you don't want to know…