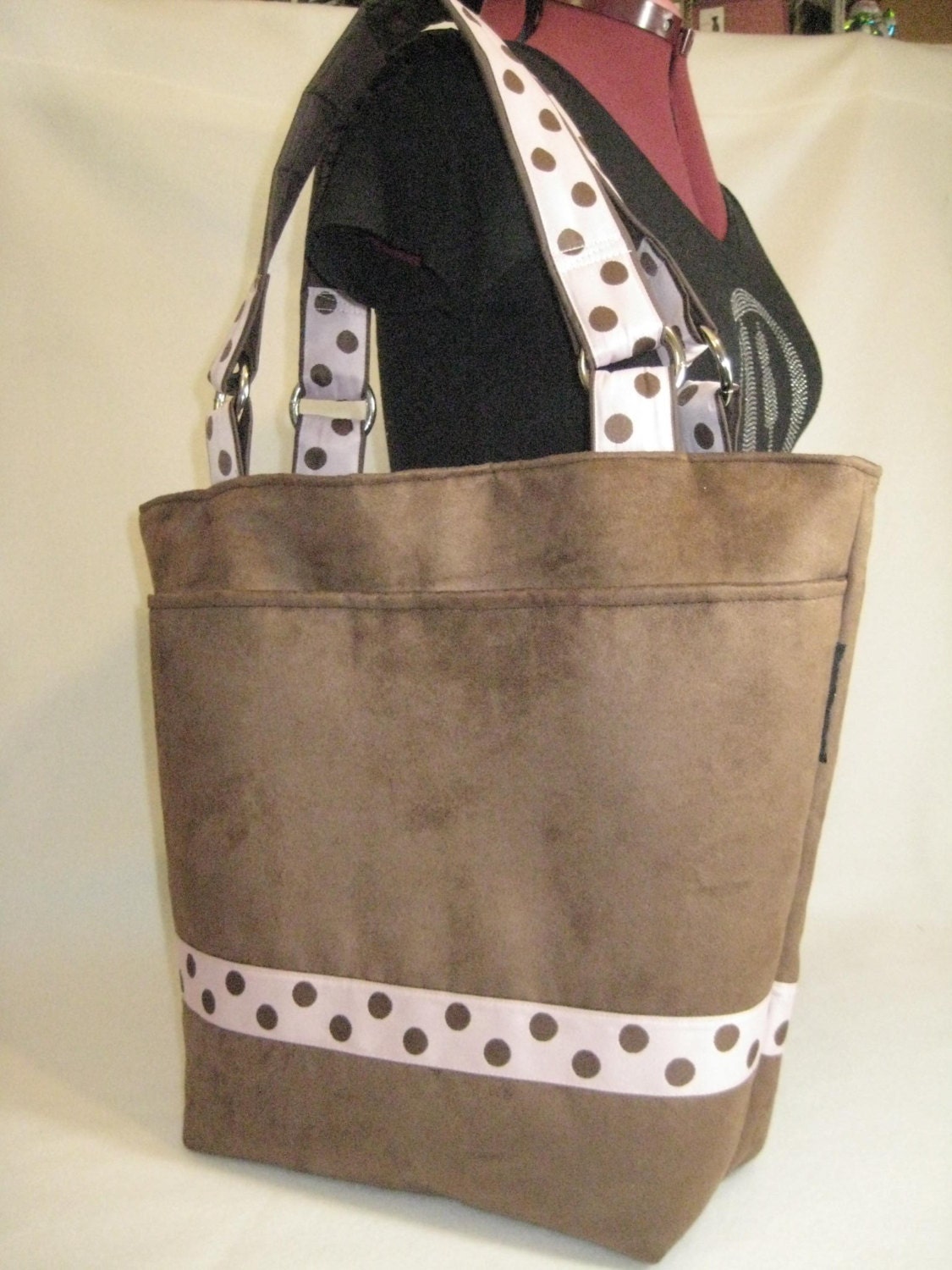 Handmade purses make unique and expressive fashion statements. But store-bought purse handles can be either really cheap looking, really expensive, or available only by special order. Why not make your own? You can create distinctive purse handles easily and inexpensively with versatile materials and tools that are simple to use.
Faux Leather
It's easier than you think to get the look of leather straps from vinyl. The key to making stylish faux leather purse straps is to have the right tools.
Choose the right vinyl. You don't want to get something heavy or thick because it will be too difficult to manipulate. Pick a soft, pliable, leather-look vinyl from the upholstery section of the fabric store. A quarter yard of 60" wide fabric should be enough.
A Teflon presser foot will glide easily across the fabric. If you don't have one of these you can put some scotch tape under your regular presser foot.
For topstitching you'll need a leather needle and upholstery thread in both the top and the bobbin.
Depending on the style you've designed you'll need either O-rings or rectangular rings.
You cannot use pins on leather or vinyl. Use paperclips or binder clips instead.
Beads
You can design a stylish beaded purse handle in just about any size, shape or color you like. They can be round or square, tiny or large, colorful or neutral. With beads and wire available at most discount and dollar stores, you can make heaps of them for just pennies. Here are some tips you can use to to make your own.
Choose wire that is flexible but strong, such as 14 or 16 gauge. You can also recycle some old wire hangers. Just be sure that your beads will fit over whatever wire you choose.
Wire cutters come in many sizes, but for this project you just need one of the small pairs made for jewelry craft.
You will need pliers to twist the wire into shape. If you don't have craft pliers, an ordinary pair of household pliers will do the job.
You might need a sturdy object to help you shape your wire. For example a small pot or saucepan would work to make a circular shape.
Beads are available in an almost infinite selection of colors, shapes and materials. You might choose cylindrical bugle beads, triangular or hexagonal shaped beads, light-reflecting faceted beads, or round beads made from plastic, wood or even semi-precious stones.
Fabric
Matching or coordinating fabric handles are a stylish finish for your handmade purse. The materials are easy to collect, and the construction is straightforward and simple.
Select a medium weight fabric. For a conservative look, pick a matching fabric. For something a little more individual or expressive, consider choosing a contrasting color or pattern. Add flair with corded piping or trim.
To add strength and padding, you'll need medium to heavy weight fusible or sew-in interfacing.
The straps can be attached in any number of ways. Tote bag straps can be simply stitched directly to your bag. For a more professional appearance use O-rings or rectangular rings. Suitcase style handles are not only easy to sew, but they also look smart and are very strong.
Other Materials
You're really only limited by your imagination. Consider using some of these unique materials to make something truly one-of-a-kind.
Inexpensive leather belts found in thrift stores or your own closet can be recycled into attractive and durable purse straps. This technique lends a gently worn, rustic style to your bag.
For a dressy bag to wear out on the town, make a chain handle using a purchased chain, a bracelet, or even an old chain belt. Use pliers to pry the rings open, and attach to the bag using O-rings or even key rings.
Crochet and macramé straps lend a charming vintage look to your purse. Craft a strap that matches the pattern and colors on the body of your bag, or design a contrasting knotted cord strap.
For something really different, thread colorful ribbon or a crochet chain through clear plastic tubing found in the pet supply store. These can be made to match or contrast the color of your bag, and they can be easily removed or changed.