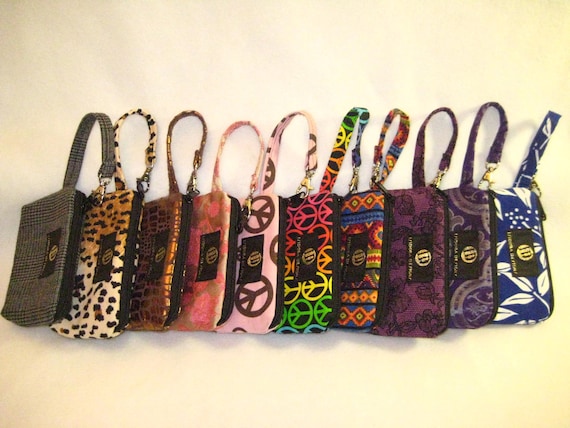 True fashion divas know that accessories can make or break the entire outfit. And what is the most important fashion accessory a woman can carry? Why, her handbag, of course.
Handbags are virtually indispensable to the modern day woman. They perform an essential function in our everyday lives by allowing us to be able to carry everything including our keys, cell phones, hair brushes, and wallets without weighing down outr pockets.
In addition to being, handbags have become a necessary fashion accessory to woman's outfit. Whether you choose to carry a designer handbag or prefer the more casual look of personalized handbags, your purse definitely makes a fashion statement.
Although trends change from time to time, there are some staples that every fashionable woman must have in her closet.
1) The Tote–Every busy woman on the go knows that an oversized tote handbag is an absolute necessity. Roomy and some are even large enough to carry everything but your kitchen sink, totes are not only fashionable but they also ensure that you never have to leave anything important at home.
Take a walk on the wild side and pick up a tote covered in an exotic animal print like snakeskin, lizard, or leopard. A cheetah printed tote can breathe life and sophistication into a monochromatic black or red outfit. Leather tote bags are a classic and well worth the investment since they are guaranteed to never go out of style.
2) The Wristlet–If you have ever attended a festival in the park or been to a nightclub you know how indispensable a wristlet can be when you don't want to be weighed down by a large handbag. Fortunately, wristlets are versatile enough for every phase of your life. Even soccer moms will be able to appreciate the tiny little pouches that slip on your wrist. Now you never have to put your purse down on the grass as you watch your children's games. Instead, stuff a little cash and your favorite lip gloss into a wristlet and your hands are free to cheer on your favorite team.
3) Fabric Covered Clutch–A fabric covered clutch is the perfect fashion accessory for a night out on the town. Whether you're headed to a formal party, a night at the ballet, or an important dinner date, a fabric covered clutch is the go to fashion accessory. Look for satin or velvet colored clutches in black or a bright purple or red. Gold and silver clutches are neutral and match almost any formal dress. Jacquard covered clutches offer a nice contrast from the standard satin or velvet but avoid leather as it may appear too casual for the occasion.
4) The Weekender/Overnight Bag/Carry-All –Every fashion forward traveler needs a sleek and sophisticated weekend carryall bag, sometimes referred to as an overnight or carry-on bag. Designers now make them in a variety of fabrics including leather and canvas. If yours will be getting a lot of use, choose a darker color so stains and dirt or less likely to show.
5) The Messenger Bag–Messenger bags became a fashion staple in the 1990s. The bags, designed with a long shoulder strap that can hang across the body, were adapted from the bags worn by bicycle couriers are a must have fashion accessory. Although they are most popular with high school and college aged women as a fashionable alternative to a backpack; the bags are perfect for young professionals on the way to the office. They can hold a laptop and business documents comfortably and don't weigh you down and clutter up your hands like a briefcase.
6) The Doctor's Bag—the doctor's bag handbag is definitely a fashion staple. The classic silhouette, inspired by the Victorian era doctor's bags used to make house calls, is truly an investment piece that will never go out of style. Usually used as a daytime bag, the doctor's bag handbag represents classic elegance and sophistication. Choose one made of quality leather with a sturdy frame and this bag will last you for years. Since this is a classic, choose a neutral color (i.e. black, brown, navy, or red) that you won't be ashamed to carry years from now.
7) The Bucket Bag—Named for their distinctive shape, the wide bottom of the bag really does resemble a bucket, the bucket bag is another fashion staple in women's handbags. Bucket bags can be casual or business/dressy depending on the fabric and the construction. Canvas bucket bags definitely have more of a casual weekend feel but many high end designers make much more sophisticated bags in leather. Bucket bags also have a variety of different closures including drawstring and snap closures but almost all of them come with a shoulder strap to keep your hands free.
They say variety is the spice of life and it definitely is true when it comes to fashion. Though fabrics and prints may change according to trends these staple handbags will always be at the core of any fashion diva's purse closet.