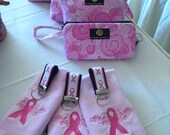 Designing your own bag is an excellent way to separate yourself from the crowd. The world of fashion today is full of unique and elegant designs for handbags and purses that are desirable to fashion enthusiasts everywhere. Unfortunately, this season's hottest bags may not be attainable to the average person because designer handbags are often made of high quality materials such as genuine leather, or they may be hand sewn and decorated to ensure top-notch quality and beauty.
On the other hand, expensive looking handbags can be found at reasonable prices, but they are often cheaply made and mass-produced, which can saturate the market with inexpensive designer look-a-likes so that every one you see seems to carrying the same bag. If unique and high quality fashions are what you seek and you don't want to drain your bank account, designing and making your own bag can be an excellent way to stand out and express your fashionable side.
There are 5 steps to creating a beautiful and unique bag.
1) Select a pattern
Consult your favorite fashion magazine in order to discover the style of bag that you like best. If you are a beginner, It may be best to choose a simple pattern that is easy to sew in order to eliminate any frustration you may feel when you first begin your sewing project. The Internet is full of free and easy sewing patterns for handbags and purses that are easy to follow and often contain illustrations or pictures to ensure you are on the right track.
2) Finding Fabric
Again, consulting a fashion magazine or blog for the hottest trends can help to give you ideas. You can also create your own unique fashion by selecting out of the ordinary fabrics. Selecting fabrics that are easy to work with, durable, and simple to clean can help to ensure that your self-designed bag will be of the highest quality and will last a long time.
3) Sew, Sew, Sew!
Take your time and carefully follow the pattern you have selected. Rushing will only create uneven stitching and detract from the look of and functionality of your bag.
4) Add Your Personality
When you have finished with the basic construction, consider adding personal touches to your new bag. Bold or brightly colored zippers can show off a playful sense of style. In contrast, simple elegance can be added with embroidery or beading.
5) Strut Your Stuff!
The most important part of designing your own bag is wearing it! After investing time, energy, and your own personal style into the handbag or purse that you designed and created, you can proudly carry your unique personalized fashion accessory.